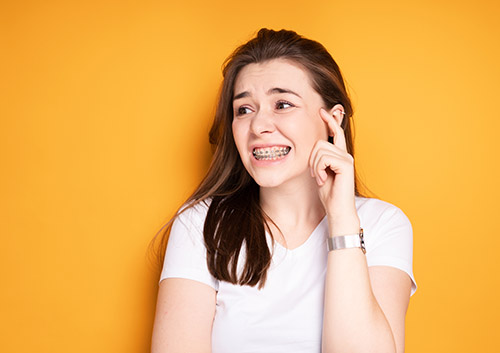 Traditional braces and oral piercings—does the inevitable meeting of metals pose any risks? Let's look at some of the potential problems with oral piercings, and you and Dr. Lapsi can decide if you should take a break from jewelry while you're in treatment.
Enamel is the strongest substance in our bodies, but when up against constant contact with metal? It's not a fair fight.
Tongue piercings, especially, cause problems for your teeth. Whenever you speak or eat—even while you're sleeping!—your tongue is making contact with your teeth. This continual tapping of metal on enamel can chip and crack teeth and damage fillings. A serious fracture could mean a root canal.
You're getting braces to create a more attractive, healthy smile, so keeping your teeth intact is a priority.
Your gums are affected by orthodontic treatment. As the teeth move, the gums, ligaments, and bone around them adapt and even reshape over time. You might notice when you first get your braces, or when you go in for an adjustment, that you have a few days of swollen, sensitive gums afterward. You might also find that you are at greater risk of gingivitis, because it can be harder to keep plaque away from your gumline until you perfect your brushing and flossing skills.
Oral piercings bring their own gingival dangers. Jewelry in the tongue or lip can rub against gum tissue, especially around your lower front teeth. As the gum tissue continues to be irritated and inflamed, it pulls away from the teeth. This process is called gum recession.
Receding gums expose the tops of your roots to cavity-causing bacteria. They make you more sensitive to hot or cold foods. Pockets between gums and teeth can harbor infections that threaten the tooth itself.
Caring for your gums during braces is important for your dental health. Since people with oral piercings have a much higher rate of gum recession that those without, why add one more risk factor to your oral health?
Lip and tongue piercings can make contact with traditional brackets and wires, especially if you have a habit of playing with them. And let's not forget lingual braces! Lingual braces are almost invisible because their brackets and wires are custom fitted to the back of your teeth. Whenever you speak or eat, you'll be taking the chance that a tongue piercing will damage these custom-made appliances.
Dr. Lapsi can tell you if your piercings are in any danger of interfering with your braces, but even if you're planning on aligners, there are additional reasons to consider retiring your oral jewelry. Dental associations and medical associations discourage oral piercings because they can damage teeth and gums. And there's more. Oral piercings can lead to swelling, bleeding, allergic reactions, infection, and nerve damage.
The reason you're considering braces is because you want a healthy, attractive smile. Don't let a tiny piece of jewelry make your life and your treatment more difficult! Do some research and talk to our Carlsbad, Mission Viejo, or Laguna Hills team about your oral piercings, and come up with a solution that's best for your health and best for your smile.