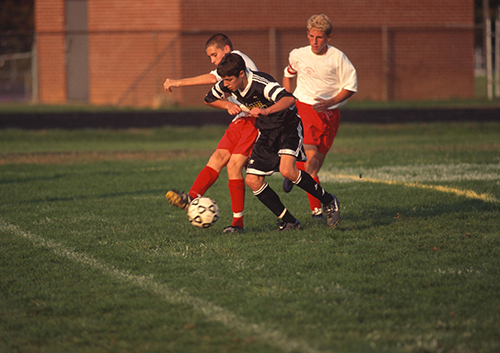 Let's talk about mouthguards.
We could talk about how important wearing a mouthguard is when you lead an active life. If you play sports, ride bikes, skateboard, or participate in many other kinds of exercise, mouthguards protect your teeth, mouth tissue, and jaws from accidents.
Or we could talk about how wearing a mouthguard while you're wearing braces has extra benefits. Besides its normal protection, your guard helps protect your brackets and wires from damaging contact, and your delicate mouth tissue from impact with your braces.
But we're not going to talk about any of these important topics today. Instead of looking at how your mouthguard protects you, today we're going to look at how you can protect your mouthguard.
If you want your guard to last longer, work better, and stay (and smell!) cleaner, some basic tips make all the difference.
This can't be stressed enough. Without a good cleaning routine, your guard can become discolored, develop an unpleasant odor, and even cause illness. Not very appealing, right? Happily, keeping your mouthguard clean isn't difficult.
When you wear your guard, the same plaque that is present in your mouth makes itself at home in your appliance. And when your guard is in its case, that dark, moist environment makes it a perfect breeding ground for all kinds of bacteria, viruses, and fungi.
As soon as you take your mouthguard out, rinse it off. Brush with a soft toothbrush to remove all the plaque, saliva, or food debris that might be lingering in your appliance. (If you are on the playing field, in the park, or at some other inconvenient location, rinse it and brush as soon as you can.) Toothpaste can help get your guard its cleanest, but can be too abrasive for some appliances.
Once you've cleaned it, let your guard air dry in a clean spot for about 30 minutes. Air drying helps prevent bacterial growth. After your guard has dried, return it to its case.
Once a week, you might need to give your mouthguard a good soak in a mouthwash or other dental cleaning solution.
Since cleaning instructions can be different depending on which type of mouthguard you have, be sure to follow our instructions if you have a custom guard, or clean as directed by the manufacturer if you have a store guard.
When your mouthguard isn't in your mouth, it should be in its case. Floating loose in your locker or tumbling around in your gym bag puts your guard at risk for breakage and bacteria.
And don't forget to clean your case thoroughly every few days and air dry it as well. Bacteria, viruses, fungi, mold, and other unwelcome guests can collect in your case, too.
Keep it only as long as it's in good condition.
You can purchase mouthguards from sporting or drug stores, or Dr. Lapsi can make you a mouthguard designed to fit your teeth and braces perfectly. These appliances are made to be strong and durable, but they're not indestructible. Over time they can wear down or become damaged, especially if you treat them carelessly.
Bacteria can lurk in dents and cracks, and you can cut your mouth on rough, sharp, or broken edges. But if your mouthguard isn't fitting properly, don't resort to self-help! Trying to repair, reshape, or trim your appliance yourself is not a good idea, because it might affect its fit and protective ability.
Any sign that your guard isn't fitting properly or shows signs of wear and tear could mean it's time for a replacement. You can replace a store model, or see Dr. Lapsi about replacing or repairing your custom guard. A mouthguard that doesn't fit, doesn't keep you safe.
Take care of your guard, and it will take care of you. The reward for the small amount of time and effort you put into caring for your mouthguard is braces that will last through your treatment at our Carlsbad, Mission Viejo, or Laguna Hills office and a smile that will last you for a lifetime. Those are benefits we can talk about all day!