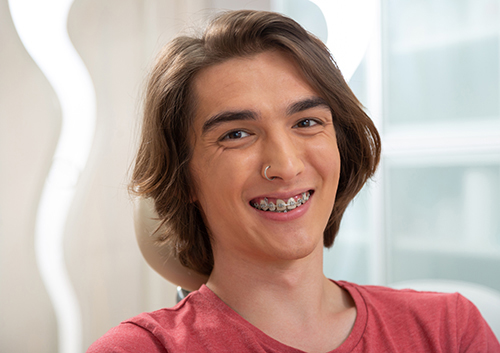 When we think braces, we can't help but think of the brackets on each tooth and the colorful ligature bands that surround them. But actually, the whole point of those brackets and bands is to hold the archwire in place as it gradually moves your teeth to create a better bite and a straighter smile. Let's learn more about this talented part of your braces!
Wire We Wearing These, Anyway?
Archwires use gentle, continuous pressure to move your teeth into alignment. That sounds simple, but there is actually a lot going on. Teeth often need more than realigning. Some teeth need to be turned a bit, some tilted. Your teeth need to be better aligned with those next to them, of course, but also need to fit properly with the teeth above or below them. You might have a malocclusion, or bad bite.
How can one wire handle all that? Well, it can't. That's why there are different types of wire. We often use thinner, flexible wires at the beginning of treatment, to put gentle pressure on the teeth as they start their movement. Other wires are firmer, and can be helpful in later phases, when each tooth is carefully moved to its specific, ideal spot. Archwires can be round or rectangular, thicker or thinner, springy or stiff, remember their shape or be bendable—all depending on what they need to do.
Whew! This sounds confusing, but Dr. Lapsi and our team are archwire experts! At every adjustment appointment, we check on the progress of your alignment and choose the exact wire you need to take you to the next stage of your orthodontic journey.
Out of the Frying Pan, Into the Wire
Now that you have braces, it's more challenging to make sure that your teeth are clean after eating. We'll give you advice on how to get rid of the pesky food particles that sometimes get stuck in your braces. First, that's absolutely not the look you're going for. But, more than that, bacteria can use these "leftovers" as fuel to create the acids that damage your enamel and cause cavities.
There's a whole new world of dental products out there waiting to help get your braces clean. Special toothbrush heads work in the spaces between your teeth and the archwire. There are floss threaders that can get dental floss into tight places, and flosses with one stiff end you can guide under the wire so you can direct the floss to where it's needed. There are even tiny cone-shaped brushes called "interproximal brushes" that can fit under your wires to clean around your brackets and teeth.
Take a care kit to school or work with you so you can keep the tooth surface under your wires and around your brackets free of plaque. After all the hard work you've put in with your braces, the last thing you want is cavities once you've achieved your beautiful smile!
We said archwires were awesome, but we didn't say they were perfect! We couldn't leave without suggestions for handling any wire-related problems that might come up.
One of the most common problems is the irritation caused by the end of a wire that has somehow come loose. You might be able to use a cotton swab to gently push the wire flat against the tooth. If that doesn't work, orthodontic wax can be used to cover the end of the problem wire and smoothed into place. We'll provide you with instructions on how to handle these and other minor wire problems at home.
Other problems should be run past us first. If you feel your wire is coming loose, or if a loose end is causing a lot of pain and irritation, call our Carlsbad, Mission Viejo, or Laguna Hills office. We'll give you instructions on how to help, and make an appointment if necessary for a professional fix.
In fact, call us anytime you have questions about your braces. We're here to help you understand each phase of the orthodontic process as you move step by step on the path to a healthy bite and a beautiful smile. And what's more awesome than that?