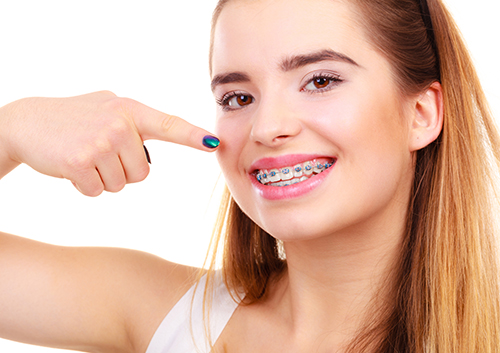 If you already wear traditional braces, you know all about these helpful little rubber rings. But if you are new to the world of braces, you might like to know just what kind of elastics are available and what they can do for you.
Ligatures: Alignment Assistance
When you get your braces, the brackets you've chosen will be bonded to your teeth. Once they are attached securely, an arch wire will be threaded through the brackets to provide consistent gentle pressure, moving your teeth into their best positions. But what holds that wire in place? This is where those tiny, colorful bands, called ligatures, come in. Fit snugly around the wire and the bracket, they keep the wire where it needs to be to move your teeth to a better alignment.
There are also ligatures call "c-chain ligatures," or "power chains." These tiny ligature bands are connected to each other, and fit across the brackets in one long strip. This design lets them not only hold your wires in place, but help move your teeth closer together at the same time. They come in a variety of sizes depending on the spacing of your teeth, and might be worn weeks or months as needed.
One thing to remember is that while ligatures are essential, they are not permanent! Every time you have your wires tightened or replaced, you can make this an opportunity to express your personality through your choice of bands. There is a wide variety of color choices available, so take advantage of it!
Show your school spirit by displaying your high school's colors. Go orange and black for Halloween. Match your ligature tones to your go-to clothing colors. Or, go monochromatic. Match grey or silver bands to your brackets, or choose white or clear bands if you have ceramic brackets. (One word of caution—light colored ligatures can pick up stains from dark foods and drinks. On the other hand, they won't be around that long!)
Rubber Bands: Building Better Bites
While ligatures are the colorful attention-getters in the elastics world, there are other bands that do very important work. When you have a malocclusion, or bad bite, your upper and lower jaws don't fit together perfectly. We use rubber bands to align your bite correctly and carefully move it into the proper position. This is accomplished by attaching bands to tiny hooks on specially chosen brackets on the upper and lower teeth. The bands usually connect an upper bracket to a lower one, and are specifically placed to correct your unique bite problem.
If you need this type of elastic, you will play a very important part in making your orthodontic treatment work. You will probably need to wear your bands 24 hours a day, removing them only for brushing and flossing. (Talk to us about how to work with your bands when you are eating, playing an instrument, or wearing a mouthguard.) And they need to be replaced several times a day, which is where you come in.
Even if the bands look perfect, after hours of work, they lose the tightness needed to keep moving your teeth to their best position. Bands that are too loose won't be as effective. On the other hand, doubling the bands is a bad idea because that might apply too much force. Bands come in a variety of sizes and strengths, and yours have been chosen for this specific phase of your treatment. Keep calm, keep to a schedule, and keep a supply of bands on hand in case one breaks, and everything will work out.
If this sounds like a lot of confusing information, don't worry! Dr. Lapsi will supply you with the right bands for your treatment, clear instructions on where and how to place them, and practice time for putting them in. You'll probably need a mirror at first, but you'll become an expert in no time.
If you ever have questions we can help you with, contact our Carlsbad, Mission Viejo, or Laguna Hills office immediately. We are here to guide you through the process and help you with any problems you might have. Wearing your bands consistently and correctly will help you achieve your beautiful smile in the shortest time possible. And that's an accomplishment that is truly fantastic!